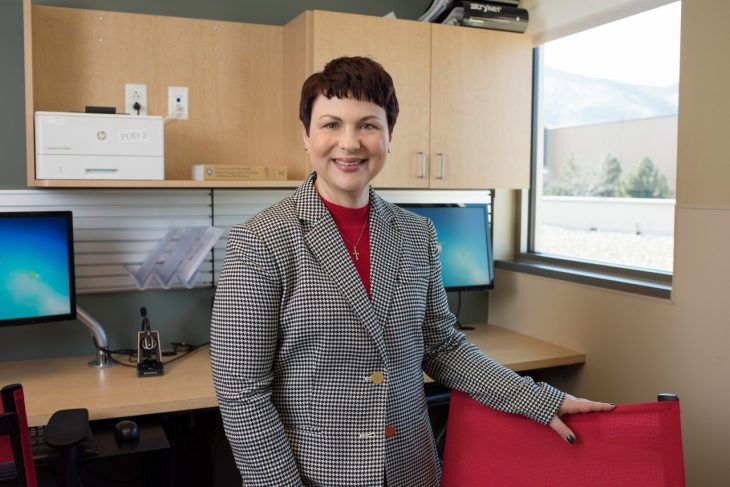 10 Fun Facts About Dr Stanciu – Metabolic Bone Specialist
Posted on April 8, 2019
We sat down with Dr. Irene Stanciu, the newest member of the Colorado Center for Bone Research and learned 10 fun facts to help patients get to know her.
Dr Stanciu is bilingual
She is originally from Romania and still speaks both Romanian and English today. She started learning English at the age of five and then continued to learn throughout her schooling. She even served as a translator at her church as a young girl when they would have English speaking guests come visit.
Dr Stanciu credits her interest in medicine to her father who was a vet
While she was growing up she was fascinated by his stories. The doctors of Romania were like stars, they were well respected and everyone looked to them for care. Even Dr. Stanciu's father, the vet, was asked about human medical care while he was at people's homes caring for animals. She loved the idea that being a doctor would be changing people's lives by helping them – making an impact one patient at a time.
Dr Stanciu has global training
She trained on two continents and under three different specialties. She has specialized in General Surgery and General Medicine in Romania (an experience that was capped off by an 18 hour shift at the emergency room of the hospital during the Romanian Revolution), Internal Medicine training in the United States at Cook County Hospital in Chicago, and Endocrine and Metabolic Fellowship training at Loyola University in Chicago all under her belt.
Dr Stanciu wants to be your partner in your health care
"As a doctor, my role is to give my patients all of the information out there and explain it to them in a way that enables them to make the best decisions for their health care," Dr. Stanciu told us. She treats every person with the same respect as an equal and her goal is to give patients the very best opportunity to live their healthiest life.
Dr Stanciu has two daughters and two grandchildren
One older daughter who has two kids (one girl and one boy who was welcomed into the world in January 2019) and a younger daughter who is finishing high school in Idaho where they lived before Dr. Stanciu began working for Panorama. Both of her daughters are bilingual as well – a trait she credits to her parents for only speaking Romanian to them as they grew up.
Dr Stanciu is doing her dream job at Panorama
When she saw the job available at Panorama to practice with Dr. Paul Miller and the orthopedic specialists at Panorama, Dr. Stanciu knew she could not pass it by. Dr. Stanciu loves being able to do metabolic bone disease care, prevention, and research. She is especially passionate about the combination of orthopedic care and metabolic bone care under one roof – she believes it enables patients suffering from diseases like osteoporosis to be connected with specialists at the first sign of the disease which is often fracture. Additionally, in working with Panorama's orthopedic surgeons, she is able to help provide better outcomes for patients who may have bone quality or fragility issues by giving the appropriate medication and treatment plans to best prepare them to heal from fracture or recover from surgery.
Dr Stanciu loves to create healthy recipes – but not cook them
She usually gives the recipes she creates to her daughter and her husband to make. She says that they enjoy putting everything together and she enjoys eating something that tastes good, is good for you, and that she didn't have to make.
Dr Stanciu is specially equipped to manage metabolic bone disease
With her over ten years of training and a special Endocrinology and Metabolic fellowship Dr. Stanciu has an excellent education of metabolic bone diseases. Not to mention, she has nearly 25 years of medical experience and a love of complex problem solving.  As she puts it "With endocrine training, I could super-specialize in bone. The endocrine system controls much of the body and I'm able to look at everything that might be changing because of it and how that is helping or hurting the bones."
Dr Stanciu's #1 Tip for Bone Health – a Healthy Body AND Mind
Dr. Stanciu recommends that patients maintain a focus on keeping their whole body healthy saying that all systems talk. She states that healthy diet and exercise are important but that patients should not forget their mental and emotional health. Every negative feeling can impact the body through physical responses and that can affect the immune system which in-turn affects bone health.
More Fun Facts About Dr Stanciu
Stanciu's favorite colors are red and green, but not together
She loves to hike, camp, ski, and do watersports, she's looking forward to trying to snowshoe
Her dream is to have a house in the forest with horses and dogs
She plays guitar and wants to learn to play piano