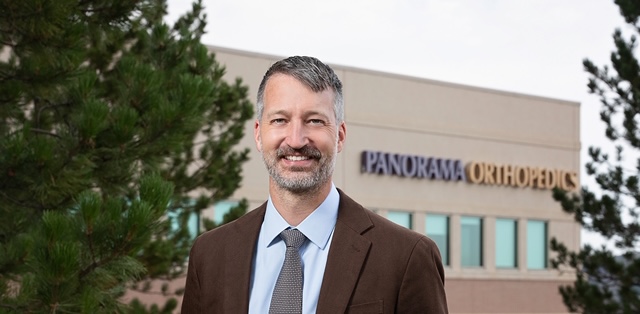 Dr. Abel, Pain Relief Expert, Joins Panorama in the New DTC Office!
Posted on October 12, 2020
Panorama is striving to make access to great care and pain management easier for South Denver residents. Dr. E. Taylor Abel is a Physical Medicine and Rehabilitation (PM&R) physician who recently joined Panorama Orthopedics & Spine Center in the new Denver Tech Center office. He specializes in non-surgical approaches for treating sports medicine and spinal injuries. as well as, diagnosing nerve pain through the use of electrodiagnostic medicine.
As an athlete himself, Dr. Abel chose the field of Physical Medicine and Rehabilitation in order to help individuals remain active and enjoy the activities they love.  Not only does he bring a unique training background and expertise to patient care, but he has a clear and direct communication style.  Dr. Abel's goal is to make every patient feel involved and confident in their care plan.  Additionally, he is highly regarded by patients for his gentle demeanor and bedside manner.
Following his medical degree from Albany Medical College, Dr. Abel completed his residency training at Albany Medical Center.  He went on to receive a fellowship in musculoskeletal, neuromuscular, sports, and spine at the esteemed Bodor Clinic in Napa Valley, California. A primary focus of Dr. Abel's practice consists of image guided injections, both ultrasound and fluoroscopic (x-ray) guided, to help lessen a patients pain.
In addition to board certification in Physical Medicine and Rehabilitation and Sports Medicine, Dr. Abel is board-certified in electrodiagnostic medicine. Electrodiagnostic medicine, specifically nerve condition studies and electromyography, can help to localize a neurologic issue that may be causing a patients symptoms. These studies may also help guide treatment (conservative treatment vs surgery) by assessing the severity of the condition.
Dr. Abel has always had a passion for playing sports and leading an active lifestyle. When not caring for patients, he enjoys snowboarding, Nordic skiing and biking.  He regularly competes in expert mountain bike and cyclocross races!
Dr. Abel is a member of the American Academy of Physical Medicine and Rehabilitation (AAPMR) and the American Association of Neuromuscular & Electrodiagnostic Medicine AANEM.  He see patients at Panorama Orthopedics & Spine Center in DTC.