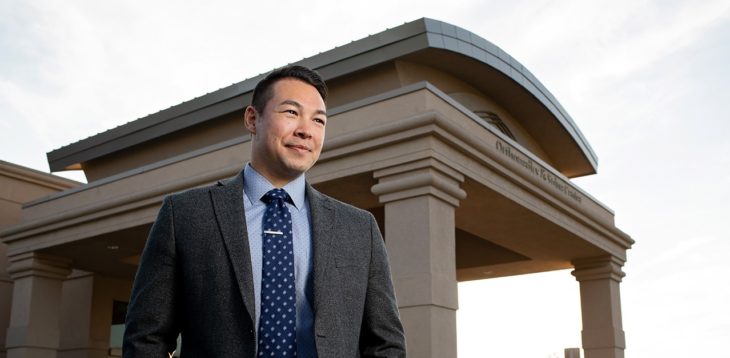 Dr Faulk Cares for Adults and Kids with Hand or Wrist Injuries in North Denver
Posted on November 16, 2020
A big welcome to Dr. Wade Faulk, the newest member of the orthopedic hand team at Panorama Orthopedics & Spine Center's Westminster offices.  Dr Faulk specializes in both adult and pediatric care of the hand, wrist, forearm and elbow.  He is specially trained in hand and upper extremity surgery, as well as orthopedic trauma.  Additionally, he is trained in microsurgery, which is an advanced technique that uses a high-powered microscope to repair or reconstruct small structures such as blood vessels and nerves that have been damaged.
Dr. Faulk was drawn to the field of orthopedics through a desire to better understand the mechanics of the musculoskeletal system."I get to repair, augment, and modify those mechanics to help people and get them back to doing things they love —whether an activity or sport, playing music, playing with their kids, or working to provide for their families."
Growing up in rural Colorado, Dr. Faulk developed a unique outlook that provided him the ability to relate and empathize with individuals from all walks of life.  As the first person in his family to become a doctor, Dr. Faulk attended medical school at the University of Colorado where he also received a Master of Business Administration.  It was there that he completed his residency and fellowship training in hand and upper extremity surgery, and was awarded for his leadership.  He also completed a fellowship in pediatric orthopedic surgery from the Children's Hospital Colorado.
Dr. Faulk has cared for student athletes both on and off the field.  He played college rugby where he learned the importance of treating athletic injuries early on.  When not seeing patients, you can find him exploring the Colorado outdoors with his family through mountain biking, hiking, camping, skiing or snowboarding.