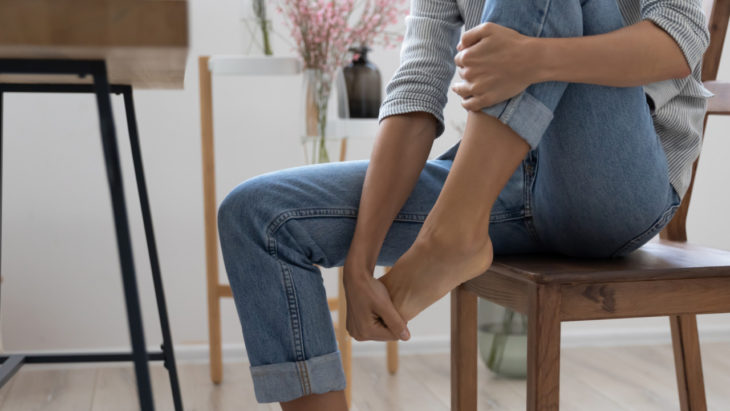 Who Should I See for My Foot or Ankle Pain?
Posted on March 18, 2021
Navigating care in today's healthcare world can be hard. How do you know who to see for foot and ankle pain – an orthopedic foot & ankle doctor or a podiatrist? Many times people wonder when it is appropriate to see a foot and ankle specialist versus seeing a podiatrist for their foot and ankle condition. While they do treat some of the same conditions, there are some important differences in these two specialists.
Education and Training
First and foremost, orthopedic foot and ankle specialists are doctors. They attend medical school, just like any other doctor, and receive an MD before going on to complete five years of specialty training in orthopedic surgery where they learn how to care for the bones, muscles and joints of the entire body.  Then, they complete a sixth year of additional specialty training focused solely on complex foot and ankle surgery. Conversely, podiatrists attend a four-year podiatric college where they receive a DPM degree, which is then followed by about three years of surgical training.  Their training is focused specifically on the foot.
Choosing the Right Doctor
There is some overlap in what podiatrists and foot and ankle orthopedists treat and it's up to you to decide what you feel most comfortable with. While regulation around what podiatrists can see and treat varies by state, in Colorado a podiatrist can treat any condition of the foot up to the ankle.  It is not uncommon to find that podiatrists often have a different comfort level in the types of injuries they like to see and treat. The orthopedic foot and ankle specialist has an emphasis on the entire musculoskeletal system and has the expertise to treat the entire body. This more holistic understanding is often helpful for patients, especially if their foot or ankle medical condition stems from an alignment issue elsewhere in the body. They can resolve the problem at the root source, because a foot and ankle orthopedist has extensive training in the biomechanics of the entire body, which allows them to provide complete care for foot and ankle problems.
If there is a chance that you may need surgical care for arthritis, fractures or bunions – it's best to start with an orthopedic foot and ankle specialist. If you do see a podiatrist, often they will refer you to an orthopedic specialist if your foot or ankle pain is difficult to diagnose, complex, or it is suspected that your injury or pain originates from a different part of the body such as the hip or knee. If you have a condition with the skin, nails or soft tissues of the foot, a podiatrist is well versed in caring for these things.
See a podiatrist for:
Diabetic foot care
Wound care
Corn and callous shaving
Ingrown toenails and toenail trimming
Skin nail and soft tissue problems
See an orthopedic foot and ankle specialist for:
Active sports injury or trauma
Muscle, bone or tendon problem
Arthritis in the foot or ankle
Fractures
Hammertoes & Bunions
Achilles Tendon Injuries
Do I See a Foot and Ankle Surgeon Only When I Need Surgery?
No – It is a common misconception that you should see an orthopedic foot and ankle specialist only if you need surgery. That is not the case at all. In fact, foot and ankle orthopedists treat patients with bracing, orthotics, injections and physical therapy 90% of the times. Surgery is used only as a last resort and less than 10% of patients need surgery. You are not wasting the time of an orthopedic surgeon to see them for non-surgical care of the foot and ankle.
Ease of Access
Because there are more podiatrists than practicing orthopedic foot and ankle specialists, people often think that they can get in quicker to see a podiatrist. That is not the case. In fact, because foot and ankle surgeons see traumatic injuries of the foot and ankle, they leave space on their schedule to get those individuals who have an urgent need in quickly –often the same day or the following day.  Another benefit for patients – because orthopedic offices are outfitted with x-ray equipment, patients are able to have x-rays at the time of their visit.  So for patients suffering with bunions, bone spurs or fractures, they can get answers in their visit with an orthopedic surgeon without having to travel elsewhere and wait for an imaging appointment. Even for non-urgent foot or ankle related injuries or pain, people are often surprised by the convenience and the thorough care they receive from an orthopedic foot and ankle surgeon.
Dr Katherine Dederer is an orthopedic foot and ankle surgeon at Panorama Orthopedics & Spine Center.  She sees patients in two different Westminster office locations.