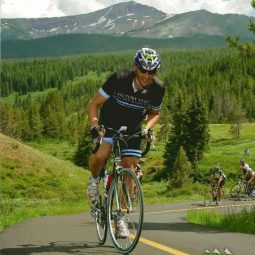 Guillermo Velasco
Patient of Dr Ed Rowland and Dr Nimesh Patel, Panorama Physical Therapy, and Return to Activity Program
During the summer of 2015, Guillermo Velasco was in the prime of his training for his 4th Triple Bypass Race – Colorado's annual bucket-list bike race for cyclists from across the nation which covers 120 miles, over 10,000 vertical feet of climbing and takes racers from Evergreen to Vail over Juniper, Loveland, and Vail passes.  On June 20th, he began a training ride that had him breaking personal records and excited to continue his ride into Idaho Springs. As he looked for a place to refill his water bottles, his back tire slipped on gravel and he came crashing down onto his right hip. When he tried to walk off the pain, he realized that it was too intense and he would need to call 911. After being picked up by paramedics, Guillermo was transported to St. Anthony's Hospital in Lakewood where he met Dr. Ed Rowland, one of Panorama's trauma specialists, who told him he had broken the head of his femur from the rest of his bone and needed surgery as soon as possible.
After surgery Guillermo was non-weight bearing for more than a month to let the bone heal. Finally, he began physical therapy with Brittney and Jessie at Panorama's physical therapy location at The Institute in Highlands Ranch. Guillermo became quite at regular, visiting three times per week. During his PT, he set a goal for himself to be training on the turf with the athletes he could see working out through the windows of the PT office. Eventually, Brittney began taking Guillermo to the turf to start training with some of the more advanced equipment. Unfortunately, by the time October began, Brittney noticed that Guillermo was not making enough progress and sent him back to Dr. Rowland.
Dr. Rowland was sent Guillermo to see Dr. Nimesh Patel who is a total joint specialist at Panorama. After consulting with Dr. Patel, Guillermo decided to have a total hip replacement. He was back in surgery on December, 18th – so happy to be moving forward, Guillermo says "I am grateful he was able to accommodate me so quickly and schedule this surgery before year end." Following his joint replacement, Guillermo once again began PT with Brittney and Jessie, but this time he progressed much faster. By mid-May, he was released from PT – happy to be done but sad to miss seeing his therapists as often.
Guillermo then took every opportunity to get back on his bike and back in shape but he kept thinking of The Institute gym. In August of 2016, Guillermo talked to Brittney and was placed into the new Return to Activity or PRO-Formance program at The Institute. This program integrates every service that Panorama offers to help patients return to their activities by connecting the therapists and doctors with the personal trainers at The Institute to help build them back up better and stronger than before.
Guillermo trained with Mandy Parker at The Institute for many months one-on-one until, after many hours of hard work and dedication on behalf of Mandy and Guillermo, he was able to join the regular strength and conditioning classes. Guillermo credits the Return to Activity program and Mandy for getting him much stronger than he had ever been – even prepared to maintain his strength and conditioning to support other injuries he once had. Today, Guillermo is a regular attendee at The Institute and his progress has even inspired his wife to join.
"Today, I am happy that I am skiing and biking as if this surgery never happened and I feel more fit and stronger than ever … I cannot wait to see how my evolution continues with the help of Mandy and all the great coaches of the Institute.
Two of my favorites mottoes are "Be Strong and Courageous" and "God gave us hills to climb and the strength to climb them".  I always think of them and throughout this journey they have kept me going and working hard." – Guillermo Velasco