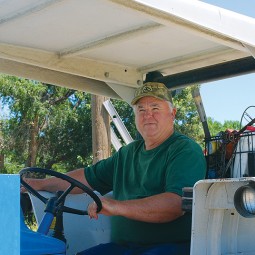 Wilburn Holloway
Patient of Dr. Bharat Desai, Dr. Peter Lammens, Dr. Mitch Seemann and Dr. Amit Agarwala - Trauma, Spine, Sports and Foot & Ankle Surgeries
Wilburn Holloway is a seasoned Kansas Farmer and sometimes he looks up – way up – at his 25,000 bushel grain bin and catches his breath. "How did I survive that?"
On July 6, 1998 Wilbur did what he had done many times before.  He climbed to the top of the bin to close the lid.  A rainstorm was coming and the moisture would ruin his wheat. Holloway hoisted the huge metal lid precisely at the moment that a wind gust ripped across his farm, whooshing under the lid and knocking him a staggering 43.5 feet to the ground.
He broke his left femur, three vertebrae in his lower back, both legs below the knees and every bone in his right foot.  Both rotator cuffs were torn and he had a severe concussion. He was immediately put on a flight to Denver.  In the hands of several Panorama Orthopedic trauma surgeons, Mr Holloway underwent a number of surgeries while his neighbors looked after his crop and his three teenage sons. "We were told that half of all people who fall 15 feet die, yet here was Wilburn who fell three times that distance."  Dr. Desai said it was the most complicated case he had ever seen, recounts Wilburn's wife Harriett.
All total Wilburn has now had 22 surgeries in 17 years on his feet, ankles, legs, back and shoulders. "Today, you wouldn't know anything is wrong with him, except that he rolls his right foot when he walks," says his wife.
"The beauty of Panorama is that they could tackle our complicated set of problems with sub specialists all working under one roof."