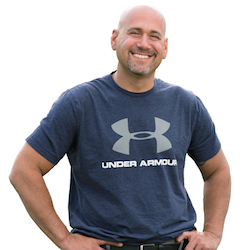 Andy Kuritz
Dr Michael Ellman
Andy Kuritz was on a 16 mile trail run when he first noticed his hip was getting tight and painful. You see, Andy was training for the Boston marathon, a race he was running for charity in honor of his Father who had passed from Multiple Sclerosis the year before. A few hours later his hip started to become even more painful. By the evening it was worse. The next day, the pain was excruciating.
Andy's story of a torn labrum in the hip is a common one. For people with this type of injury – on average, patients see 3 – 4 medical providers to get a diagnosis of a labral tear in the hip.
Initially, Andy saw a doctor who ordered an MRI for a closer look at the hip. The MRI came back showing no tear in the labrum and no structure damage, so it was recommended that Andy take a break from running. Andy went to physical therapy. There he worked on the IT band – maybe it was too tight. He tried running one or two more times but it was too painful. Now, he had a noticeable limp. Despite the pain and the recommendations from the doctor Andy said, "I had raised money in honor and memory of my dad, so I was running the Boston marathon on April 16 – once I started, I felt uncomfortable as I hadn't run in two weeks. By mile 9 the pain was so bad I had to start walking – I walked/ran for 17 miles. Andy finished the marathon, but missed the official time stamp. "I could barely walk when I was finished. The next day I was going to walk around the city with my family, but I couldn't do it. The pain was 15 on a scale of 1 – 10."
When he returned home to Denver, he saw another doctor who identified the torn labrum in Andy's MRI that was initially missed by the radiologist who read his MRI. After consulting with this doctor, it was suggested that he proceed with a reconstruction of his labrum, a process that sometimes can take nine months to a year to get back to running. Through a family member he found Dr Ellman and he came to Panorama for a second opinion. Dr Ellman is conservative in the operating room, yet aggressive with rehabilitation. He said, "A labral reconstruction is not necessary at this point and a labral repair is a great place to start. He compared it to a tire – Just because you have a flat tire you don't buy a brand new tire. Let's fix it." Andy wanted to get back to running quickly, so this seemed like a good option.
Andy went through with the surgery to repair the labrum in his hip on August 30 – Everything went well. He started physical therapy three days later – and that continued for 3 and ½ months. His goal was to be running again by December 26 as he was planning to run the Boston marathon again in April and he needed to start his 16 week training program. So, that he did. Andy never missed even one of his 64 training runs, as he trained 4 days a week, and he had no problems. "I started running 3 ½ months after surgery and started marathon training 4 months after surgery. This year I ran the Boston marathon for a different charity – Cops for Kids with Cancer. This was 7 ½ months after surgery and I felt physically great!