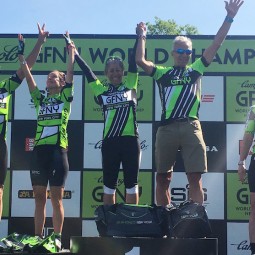 Julie Lyons
Dr Jared Foran
Julie Lyons is a World Champion cyclist and patient of Dr. Foran.  When Julie came to Panorama with knee pain in 2016, Dr Foran suggested a knee replacement to keep her doing the things she loves. Eight months after her knee replacement, Julie competed in the Gran Fondo World Championships in New York. The Gran Fondo is a 100 mile bicycle race which attracts cyclists from all over the world. The highly competitive field includes former Tour de France racers, Pan American Race champions, and Olympians.
As Julie tells it, "I am 8.5 months post-op and not only won my age group but crushed the previous record for 60-64. I actually beat all the 55-59, and had the 3rd fastest time for the 50-54 age group as well. You can tell which one is me on the top of the podium by the straight legs. Both of them straight!"
Julie was one of only 3 champions from the USA. Others were from Brazil, Columbia, Italy, and Canada.
"Thank you so much, Dr. Foran, for helping me to continue with the activities I love. Although I am still working on sitting cross legged on the floor, I am ripping it up in every other aspect. I am sure that final 5% flexion is in the bag," she says. "Couldn't have nailed it without you. You da' bomb and I am a World Champion!"