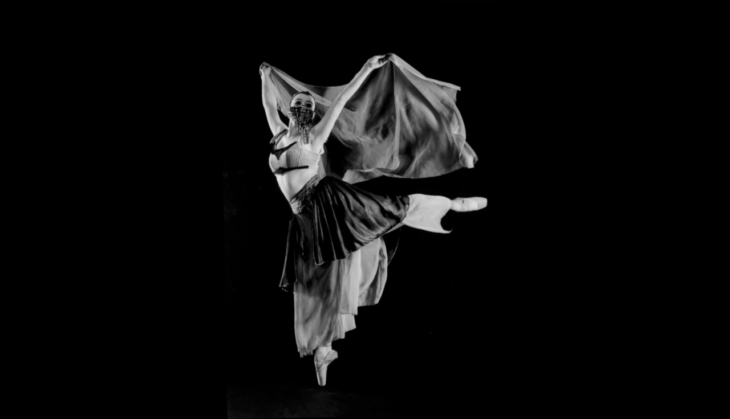 For the Dreams of Dance
Posted on August 8, 2022
Austin Price shares her journey of returning to dance after going through a right ankle surgery at the age of 12 with Dr. Conklin.  Photo courtesy of Austin Price and the Colorado Conservatory of Dance as an Arabian Nutcracker.
The one thing in my life that has always remained consistent is my love of dance. I started dancing when I was 3 years old and quickly developed an insatiable passion and curiosity for this extraordinary art form. 
I continued to dance as I grew, but when I was 12 years old, my life as a dancer was threatened. I had been having severe, debilitating pain in my right ankle, making my love of dance harder and harder to experience. After countless doctors appointments and rounds of physical therapy, I was still experiencing pain. Every doctor I spoke to shut me down, saying it was not really an issue and I could go on as usual. But I knew that something was not right. I knew that I needed answers and I knew if I didn't get them, I may never get to dance again. 
Then, I met Dr. Conklin with Panorama. I felt heard and respected by both him and the entire team at Panorama. After one appointment and an MRI, I received a voicemail, confirming my fears. Something was very wrong with my ankle. 
I will always remember sitting at the kitchen table with my mom, listening to a voicemail that would change my life. The MRI on my ankle showed that I was missing cartilage between the bones. This lack of cartilage was causing the bones to grind into one another, causing severe pain and damage to my ankle. In this voicemail, I was informed I would never be able to dance again due to the extent of my injury. I remember listening to the rest of the voicemail with tears in my eyes. The solution was to have surgery performed by Dr. Conklin in which he would make micro-fractures in the bones in order to make them bleed, creating a layer of scar tissue. This layer of scar tissue would act as a substitute for the missing cartilage to prevent more damage to the bones and joints in my ankle. 
This surgery was meant to give me the ability to live with my ankle as a normal human, but not as a dancer. However, I did not want to take no for an answer. Come hell or high water, I was going to dance again.
I had the surgery and began many long weeks of physical therapy, pilates, and private ballet classes to rehabilitate my body and bring strength back into my ankle. 
Because of Dr. Conklin's medical expertise and my determination to dance again, I went on to dance 8 more years when I was told I would have 0. I was able to train en pointe and was dancing 30 hours a week from the ages 13 to 19. I was a dancer in Colorado Conservatory of Dance's Studio Company for six years, three of which I was a Studio Company Representative, and I was a dancer in the Pre-Professional Program for 3 years. At CCD, I performed several lead roles including Madeline in Madeline Stands Tall, the Lilac Fairy in Aurora's Wedding, the Autumn Fairy in Cinderella and the Evil Stepmother, and the Duck in Peter and the Wolf. I have also performed soloist roles in CCD's The Nutcracker, including Arabian (as pictured), Mirliton, Rat King, Snow and Lead Flower. I attended CCD's Advanced Summer Intensive for five years and have performed in CCD's annual Summer Moving Project for four years and I have attended CCD's Movement Lab the past two years. I have been teaching as an Apprentice Faculty Member for CCD since 2020. 
None of this would have been possible without Dr. Conklin and the Panorama team supporting me and having my back through some of the hardest times of my life. In May, 2022, I had a repeat of the original surgery on my ankle. Because I danced for 8 years more than I was told I could, the damage had been redone to my ankle. However, after my last performance with CCD just days before my second surgery with Dr. Conklin, I knew that it was time to retire from my dancing career. However, I still plan to teach and choreograph and I know that dance will always be a huge part of my life and that is all because of Dr. Conklin's kindness, knowledge and faith in me as a patient. 
Dr. Conklin supported me and my ambitions as a dancer for the entire 8 years of my career after surgery and was always in my corner, cheering me on. Without Dr. Conklin, I would not have 8 wonderful years to look back on. These 8 years are times when I made my closest friends, met my brilliant mentors, learned to dedicate myself to something I believed in, and experienced the true joy of movement and creativity through the body. 
I cannot thank Dr. Conklin and the team at Panorama enough for listening to me, believing in me, and supporting me both mentally and physically. I am truly so grateful for Dr. Conklin and the team at Panorama for allowing me to continue doing what I love and for keeping me safe and healthy as I did so. 
Thank you Dr. Conklin, for believing in me and supporting me as a dancer, and as a patient. I am forever grateful for you and your team at Panorama.