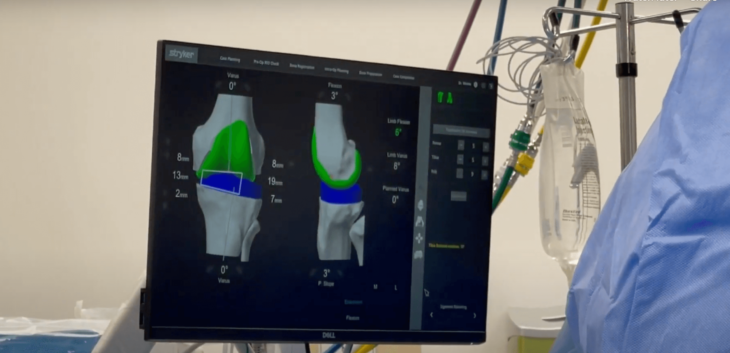 Mako: Robotic-Assisted Knee Replacement 
At Panorama Orthopedics & Spine Center, our goal is to offer our patients the best—and that means staying on top of the newest advances and offering patients options. In 1940 the first joint replacement was performed and now, over 70 years later, there is a new tool in joint replacement, the Mako robotic arm—now offered by Panorama's experts in joint replacement surgery. Mako is a surgical assistance system that combines a robotic arm and Mako software that allows pre-surgical planning by a Mako certified joint replacement specialist and guidance during surgery.
The goal of the Mako System is to provide additional flexibility and better fit by providing more precision during placement—this should lead to less wear and tear over the life of the artificial joint. As patients get joints replaced at younger and younger ages, having a tool that is meant to prolong the life of an artificial joint becomes more and more important.
In traditional joint replacement surgeries, surgeons use imaging from MRIs and X-rays to get a picture of the joint, they make a plan and begin surgery; with Mako, a 3D model of the joint is created using CT imaging. Using this model, a surgeon is able to place the implant, rotate the joint, and extend and bend the joint to each patient's unique anatomy before ever beginning surgery.
With a precise plan in place the surgeon will do the actual surgery using the Mako robotic arm. The Mako Robotic Arm gives feedback during surgery to help keep the surgeon to his pre-surgical plan just as a GPS would give guidance during a road trip. The surgeon is always able to make "detours" during surgery using their expert judgement.
The Mako robotic arm is a tool that the surgeon controls and moves with their hands throughout the duration of the surgery. Each surgeon who uses Mako goes through a training program to become certified and specifically trained in using the Mako robotic arm.  Dr. Tim Lehman, Dr. Bob Thomas, Dr. Todd Wente, and Dr. Peter Gold are certified Mako joint specialists and are happy to work with each patient to determine the best course of action for their surgery. 
The Mako robotic arm is an option for the following surgeries:
Total knee replacement
Partial knee replacement
Panorama offers the Mako procedure at OrthoColorado Hospital in Lakewood, Littleton Adventist Hospital in Littleton, and at Centennial Hospital. If you have more questions about Mako or think you would like to consult with a doctor please call to make an appointment.