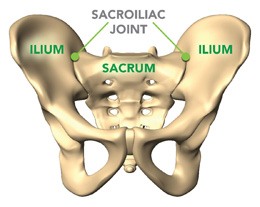 SI-Joint Pain: The Hidden Cause of Low Back Pain
Posted on March 8, 2018
Up to 85% of Americans suffer from low back pain at some point in their life. While there are many causes of lower back pain, a commonly overlooked cause is SI Joint Dysfunction, also known as sacroiliac joint pain, and sacral pain. It is estimated that 15-30% of low back pain is caused by SI joint dysfunction.
Low Back Pain Causes
Where is the SI Joint?
The sacroiliac joint or SI joint as it is more commonly known is the link between upper and lower body, it is the joint between the sacrum (bottom of spine) and the iliac (pelvis). The SI joint actually has two joints, on either side of the spine that hold the weight of your body as it shifts when you walk.
What causes SI Joint Pain?
SI joint dysfunction can be caused by trauma, degenerative disease, pregnancy/childbirth and prior lumbar fusion procedures. Often SI dysfunction can lead to chronic low back pain. Sometimes the pain is a dull ache and other times it can present as a sharp or stabbing pain. Typically, the pain starts at your SI joint but you may experience the pain to your glutes, thigh, groin, pelvis, back, and even your calves. It is estimated that up to 30% of low back pain is caused by SI Joint dysfunction. Unfortunately, these symptoms mimic many other problems of the spine, legs, and hips therefore it is really important to see a specialist to find a proper diagnosis for your pain.
How is low back pain diagnosed?
The first step in diagnosing SI joint dysfunction is a physical exam, your doctor may use a combination of diagnostic imaging and diagnostic injections to help determine the source of your pain. Often times SI pain starts when your joint becomes inflamed, this may be due to trauma, degeneration around the joint or both. You may aggravate the joint and cause inflammation from something as simple as sitting too much or from repetitive motion exercises such as jogging. Arthritis can also contribute to the onset of pain in the SI joint as aging can cause degeneration to the joint. Additionally, it it common for patients who have undergone an spine surgery and had a lumbar fusion to experience more wear on the adjacent joints also leading to degeneration in the surrounding joints.
What are my relief options?
If you have SI joint pain, there are many solutions available. Your doctor will help you decide what is best for you. Physical therapy can help. injections may be used to help treat inflammation along with over the counter drugs.
There are also new procedures available, such as, SI fusion, which has become a successful way to put an end to the pain many people have experienced for years. New implants that can be placed on either side of the SI Joint can act to stabilize the joint and relieve the pain.
Where can I get help for low back pain?
Many people suffering from SI pain see several doctors before they find someone who is trained specifically in understanding this type of pain. Dr Desai, at Panorama Orthopedics & Spine Center, is an expert in SI pain and has completed training in minimally invasive procedures that can help to alleviate this problem.