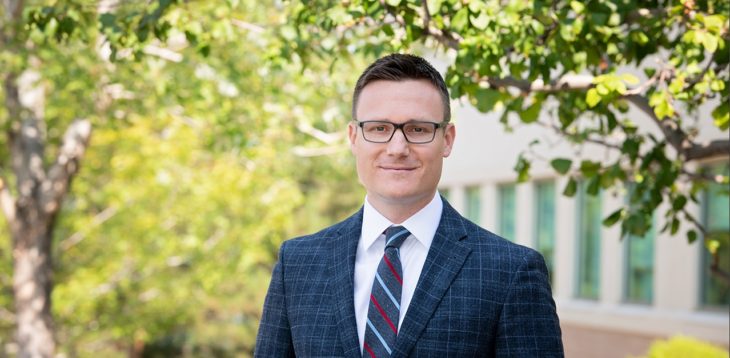 From the Ivy League to Panorama – Welcome to Dr. Haber
Posted on October 5, 2020
Dr. Daniel Haber is no stranger to top-tier institutions. While completing his education and orthopedic training – he attended Brigham Young University, Dartmouth, Harvard,  the Steadman Clinic and Steadman Philippon Research Institute in Vail, Colorado. When finished, he chose Panorama to begin his practice as an orthopedic surgeon.
Dr. Daniel Haber is a sports medicine and orthopedic surgeon at Panorama Orthopedics & Spine, he specializes in hip pain in young athletes, complex shoulder and knee injuries, as well as cartilage restoration. Given Dr. Haber's specialized training and breadth of experience, he performs a unique set of surgical treatments in children and adults when non-surgical treatments have failed. He firmly believes in spending time with his patients so he can understand their needs, limitations and goals.
Dr. Haber graduated summa cum laude from Brigham Young University before attending Dartmouth Medical School in Hanover, NH.  While there he was inducted into the Mosenthal Surgical Honor Society and awarded the Freddy H. Fu Outstanding Medical Student in Orthopaedics Award. Dr. Haber completed his orthopedic surgery residency at the prestigious Harvard Combined Orthopedic Residency Program. While there, he gained experience treating children and adolescents at the esteemed Boston Children's Hospital. Additionally, he gained extensive experience in surgical and non-surgical fracture care at four level I trauma centers – Massachusetts General Hospital, Brigham and Women's Hospital, Beth Israel Deaconess Medical Center, and Boston Children's Hospital. He also learned sports medicine and arthroscopy from the same physicians who care for the New England Patriots, Boston Red Sox, Boston Celtics, and the Boston Bruins.
Following his residency, Dr. Haber pursued specialized training at the world-renowned Steadman Clinic and Steadman Philippon Research Institute in Vail, Colorado. While there, he learned advanced arthroscopic and reconstructive surgical techniques for the treatment of complex disorders of the knee, hip, shoulder, elbow, and all sports-related injuries.He cared for professional athletes from the NFL, MLB, NHL, NBA, MLS, in addition to treating collegiate, high school, and recreational athletes. He continues to serve as a physician for the U.S. Men's & Women's Ski and Snowboard Teams.
Throughout his training, Dr. Haber has received awards for his research. He has published several peer-reviewed journal articles, pioneered new surgical techniques, authored chapters in textbooks, and produced instructional videos. His work has been presented at numerous local, regional, national, and international meetings. Dr. Haber's particular interests are labrum and rotator cuff injuries in the shoulder, shoulder replacement for arthritis, ACL and other knee ligament injuries, cartilage and meniscal injuries, osteotomies (high tibial osteotomies, distal femoral osteotomies), and hip arthroscopy for labral tears. Dr. Haber is a member of the American Academy of Orthopaedic Surgeons (AAOS), the Arthroscopy Association of North America (AANA), Pediatric Research in Sports Medicine (PRISM), and the American Orthopaedic Society for Sports Medicine (AOSSM).
When not spending time with his wife and three children, Dr. Haber enjoys snowboarding, skiing, mountaineering, backpacking, soccer, and traveling. Dr. Haber sees patients at Panorama Orthopedics & Spine Center in our Westminster locations at Bryant St. and the St. Anthony North Medical Pavilion.