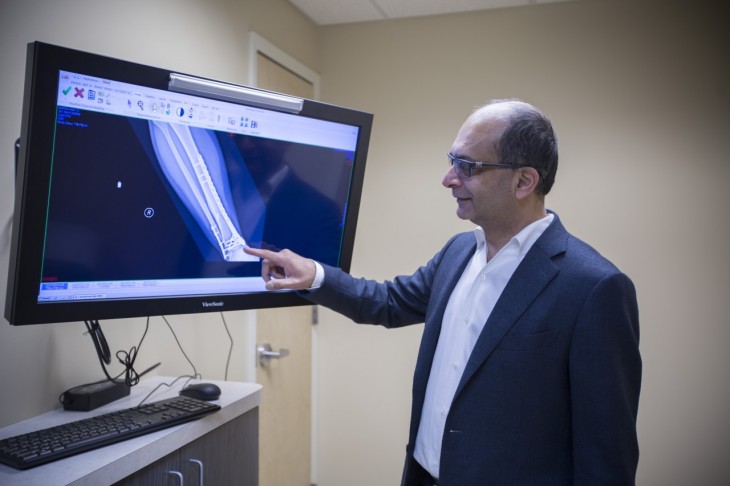 Juvenile Cartilage and Arthritis Prevention
An Injury Doesn't Have To Mean Arthritis
Too often an injury occurs it extends beyond the bone itself and affects the cartilage around it as well. When the cartilage is injured or compromised it can lead to additional wear and tear on the joint over time. That wear and tear can eventually lead to arthritis. Thanks to new techniques available today, a cartilage injury no longer means a life sentence of arthritis thanks to the work of physicians such as Dr. Bharat Desai at Panorama Orthopedics & Spine Center in metro Denver.
Dr. Desai long ago realized that treatment for many common sports injuries and trauma injuries required full healing of the cartilage as well as the bone.
"It used to be that the bone could be fixed but we had to hope for the best with the damaged cartilage. But if the cartilage is still injured, it's basically a ticking time bomb for arthritis," Dr. Desai said. "Now there is an option to fix the cartilage in a way that gets patients back to full activity and lessens their risk of arthritis in the future."
Dr. Desai uses juvenile cartilage to repair serious injuries in the hip, knee, ankle, elbow, and shoulders. While adult cartilage is unable to grow and heal, juvenile cartilage is programmed to do exactly that.
"It's like planting a seed," Dr. Desai explains. "It already knows that it should become cartilage. It fills in the defect caused by an injury and actually contours to fit the need of the injured joint. It is a natural and biological way to heal our patients, and by more fully restoring the cartilage we lessen the progression to arthritis."
Dr. Desai has been using this technique in minimally invasive surgeries for more than seven years. According to a study published in the American Journal of Sports Medicine, it is a "rapid, safe and effective treatment for cartilage defects."
The procedure is also more cost-effective and less invasive than many alternative treatment methods or surgeries that are sometimes used to stimulate new cartilage tissue growth or implant adult cartilage for other areas in the body.
"The beauty of Panorama is that patients have a variety of different options for addressing the same problem," Dr. Desai said. "The key is to find the best technology, old or new, for you. That's where the breadth and experience of our physicians help: We are all specialists."
Talk to any one of our Denver orthopedic surgeons today for help with arthritis prevention