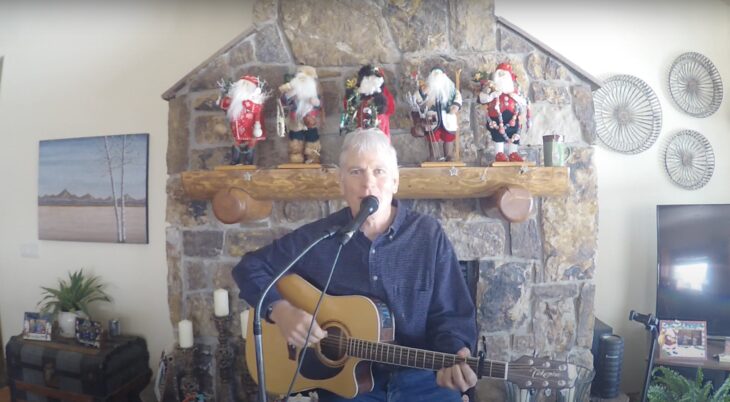 Patient Overcomes Bone Cancer with Orthopedic Oncology 
Todd Musselman came to Dr. Ronald Hugate with a tumor from elbow to shoulder. He left with full use of his arm and fingers.
Family man Todd Musselman is a professional musician and lifestyle coach.  Happily married and living in Steamboat, Colorado, Todd shares three adult children with his wife.  In February 2020, Todd went to see an orthopedic surgeon for a sore shoulder that he attributed to past injuries from college football and rugby.  He was diagnosed with a classic shoulder impingement and sent to physical therapy to rehabilitate his shoulder.  While he felt temporary relief from therapy the pain continued to return, eventually getting to the point where he couldn't sleep for more than 30 minutes at a time.  He decided to get an MRI and second opinion at another orthopedic practice, where he was told his pain wasn't attributed to a rotator cuff injury or torn labrum – it was bone cancer.  The next couple days he was away on business with the thought of cancer echoing in his mind.
When the cancer was confirmed, Todd had to tell his children over Zoom that he had cancer and it was the hardest conversation he ever had to have. It was then that he was referred to Dr. Ronald Hugate at Panorama Orthopedics & Spine Center, who is nationally renowned for his work in limb preservation and orthopedic oncology.  After Dr. Hugate confirmed his diagnosis, they worked quickly on a treatment plan.  Dr. Hugate alleviated Todd's fears about losing his arm and got him scheduled for surgery as soon as possible.  The MRI didn't show the extent of his tumor which was from his shoulder to elbow.  Dr. Hugate had to remove 9 muscles attached to the humerus bone as well as his elbow. 
When Todd woke up from surgery his first thought was, "I can still move my fingers and play my guitar!"  His recovery was "remarkable" sharing that the only pain he experienced lasted for four hours.  Following surgery Todd shared, "Dr. Hugate is otherworldly in terms of his talent. I feel incredibly blessed for meeting Dr. Hugate and getting to know him personally. Every day I spend time mediating on 'What am I grateful for?' and Dr. Hugate is always on that list." 
A big turning point for Todd, was when we was able to process what had happened, and move from a victim mindset, to an ownership mindset. After weeks of living in fear and asking "how did I get cancer," his wife encouraged him to ask instead, "what am I going to do with having cancer."
Todd still gets to do three things he loves the most, play guitar, fly fish, and tie flies for meditation.  He spends his time inspiring others through his story, teaching others what he has learned through overcoming tragedy. The three steps he coaches to progressing through any tragedy are acceptance, forgiveness and gratitude. He says, "I am not grateful for my cancer, but I'm grateful for the things I've gained by going through cancer."
After an extremely eventful year, Todd posted the video of him fully recovered, playing Christmas Carols, to ring in the new year.