University of Denver and Panorama Orthopedics Enter New Partnership
Posted on August 12, 2021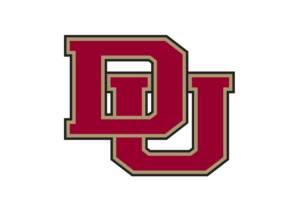 The University of Denver (DU) Athletics and Panorama Orthopedic & Spine Center have teamed together to provide extraordinary sports medicine and orthopedic care for DU Pioneer athletes!  The vision and purpose behind this partnership is to provide the highest quality health care for the student athletes at the University of Denver.
Beginning with the 2021/2022 sports season, eleven of Panorama's nationally renowned, fellowship-trained orthopedic specialists will serve as team physicians for DU's Men/Women's Soccer, Men/Women's Lacrosse, Men/Women's Basketball, Men/Women's Ski, Men's Ice Hockey, Women's Gymnastics and Women's Volleyball teams.  The Panorama DU Team physicians will be working in conjunction with Dr. Jennell Kopp, a Centura Primary Care Physician, who has been named as the Medical
Director for DU Athletics.  Additionally, athletes and students will have access to Panorama's entire network of providers including experts in regenerative medicine, pain management, physical therapy, hip preservation, spine, hand, foot/ankle and more.
The designated team physicians will be on the side-lines to provide real-time care during home games, tournaments and select away games.  Student athletes will also have access to a sports medicine clinic on DU's campus throughout the week.
"We are honored to partner with DU athletics to provide care for their exceptional division one student athletes.  Our priority is to keep the Denver Pioneers healthy, active and doing the things they love by providing them with 24/7 access to high quality orthopedic and sports medicine." Doug Foulk, MD – Panorama Sports Medicine Provider & Team Physician.
"This partnership will enhance the holistic approach to health care and well-being for our student-athletes," Associate Vice Chancellor/Deputy Athletic Director for Pioneer Health and Performance Julie Campbell said. "Panorama will deliver our studentathletes the highest quality care to supplement the already great work being done by our athletic trainers and sports performance coaches. The most exciting part of this partnership to me is the increased access to resources and the round-the-clock access from Panorama for our student-athletes."
About University of Denver Athletics 
The University of Denver Division of Athletics and Recreation sponsors 18 NCAA Division
I sports programs with over 350 student-athletes as members of the Summit League, NCHC, BIG EAST, Big 12 and RMISA. A full member of NCAA Division I since the 1998-99 season, the Pioneers have won 12 of the last 13 I-AAA Directors' Cups, 33 National Championships, 123 individual NCAA Championships and 142 conference championships.
About Panorama Orthopedics & Spine Center 
Panorama Orthopedics & Spine Center has been a trusted provider of orthopedic care in metro Denver for more than 70 years, specializing in prevention, management and treatment of orthopedic conditions. Though the practice has grown over time, their purpose has remained the same – helping people feel better, so they do more. The independent group of orthopedic surgeons is one of the largest orthopedic groups in the United States.
Every orthopedic surgeon at Panorama is fellowship-trained. This means that beyond their general orthopedic training they have gone on to specialize in one individual area of orthopedics. This specialization is correlated with greater quality – for patients that translates into less pain, better outcomes, shorter hospital stays, fewer infections and higher patient satisfaction. By having physicians who focus their practice in highly specialized areas, patients are treated with more skill, more experience and a better understanding of their needs.