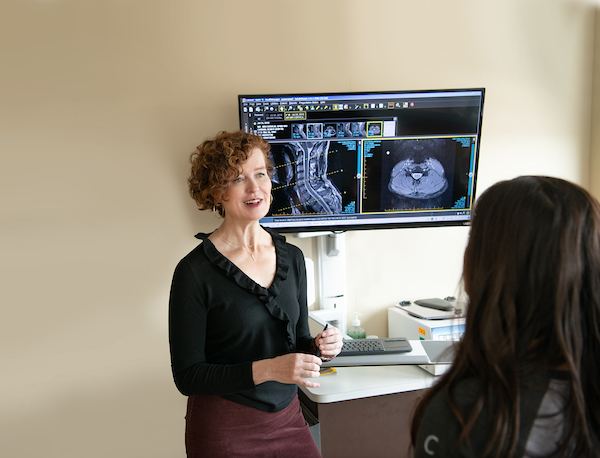 What is A Physiatrist?
A physiatrist is a non-operative doctor who has been trained in Physical Medicine and Rehabilitation. They are sometimes referred to as a Pain Management doctor, because they specialize in pain management. Panorama's pain management team includes four board-certified physiatrists –  Dr. Karen Knight, Dr. Michael Horner, Dr. Mike Lersten and Dr. E. Taylor Abel.  Together, they specialize in interventional pain management. They diagnose and treat pain, as well as, restore function, by treating the whole person — not just the injury. 
Our pain management team sees a range of patients, including those with low back pain, neck pain, and elbow pain, who have become frustrated with their lack of progress achieving pain relief. Depending on the type of illness or injury, the team may prepare treatment plans that include interventional pain management techniques, injections, physical therapy and/or complementary medicine or advanced cellular biologics to help relieve pain and restore motion.
Some of the pain-relieving procedures we are able to perform there include:
Injections
These are often used to treat pain that originates in the spine. Epidural injections involve injecting an anti-inflammatory medication, such as a steroid, near the problem area. 
Radio frequency ablation (or RFA)
Radio frequency ablation is a minimally invasive procedure used to treat pain coming from small joints in the back. It uses an electric current that produces a radio wave. 
Percutaneous tenotomy
This procedure can be very effective in treating persistent tendon issues that don't respond to physical therapy or injections.  A probe is inserted into the tendon to dissolve scar tissue and promote healing. 
Electromyography (EMG)
EMG is used to diagnose painful nerve and muscle dysfunctions. It utilizes electrodes on the skin and a thin wire to measure the speed and strength of signals being transmitted in different areas of the body. 
Don't wait for pain to take over your life. Our team of physiatrists offer non-operative solutions to help you recover.