Michael Horner, DO
Michael Horner, D.O., is a board-certified physician specializing in physical medicine and rehabilitation, interventional pain management, and electrodiagnostics. He graduated from Pennsylvania State University where he was on the varsity wrestling team while earning a degree in kinesiology (science of human movement). Dr. Horner earned his doctor of osteopathic medicine from the Philadelphia College of Osteopathic Medicine, where he received extra training in manual therapy for the musculoskeletal system. He completed his residency in physical medicine and rehabilitation at Michigan State University, where he also completed fellowships in electrodiagnostic medicine and interventional pain management. He has specialized training in performing guided injections using x-ray or ultrasound for precise placement, and in cellular treatments.
Dr. Horner takes a "whole person" approach to medicine, treating the entire person rather than just the symptoms. A former division 1 wrestler, Dr. Horner enjoys working with athletes as well as helping all patients get back to the activities they love — whether that's playing with grandchildren or completing a triathlon. He served as a volunteer team physician for the Michigan State University wrestling team and for Special Olympics. He's led medical mission trips to Mexico and to Zambia where he set up the country's first EMG lab. He enjoys traveling and spending time with his wife and son. If you're lucky you might see his dog, Max, at the office greeting patients as a therapy dog. When he's not working, you'll find Dr. Horner outdoors – hiking, skiing, kayaking, camping and running, or indoors – working out or playing racquetball.
Dr. Horner sees patients at Panorama's offices in Golden and Highlands Ranch.
View Dr. Horner's Healthgrades Profile
http://www.healthgrades.com/physician/dr-michael-horner-ywtfg
Currently, Dr. Horner is training for a natural body building competition! You can follow along with his training here: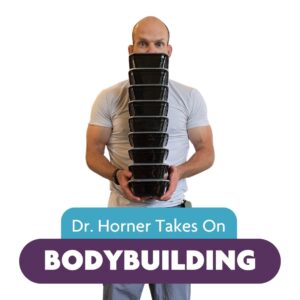 (Not working? Click here.)
Find information on the competition here.